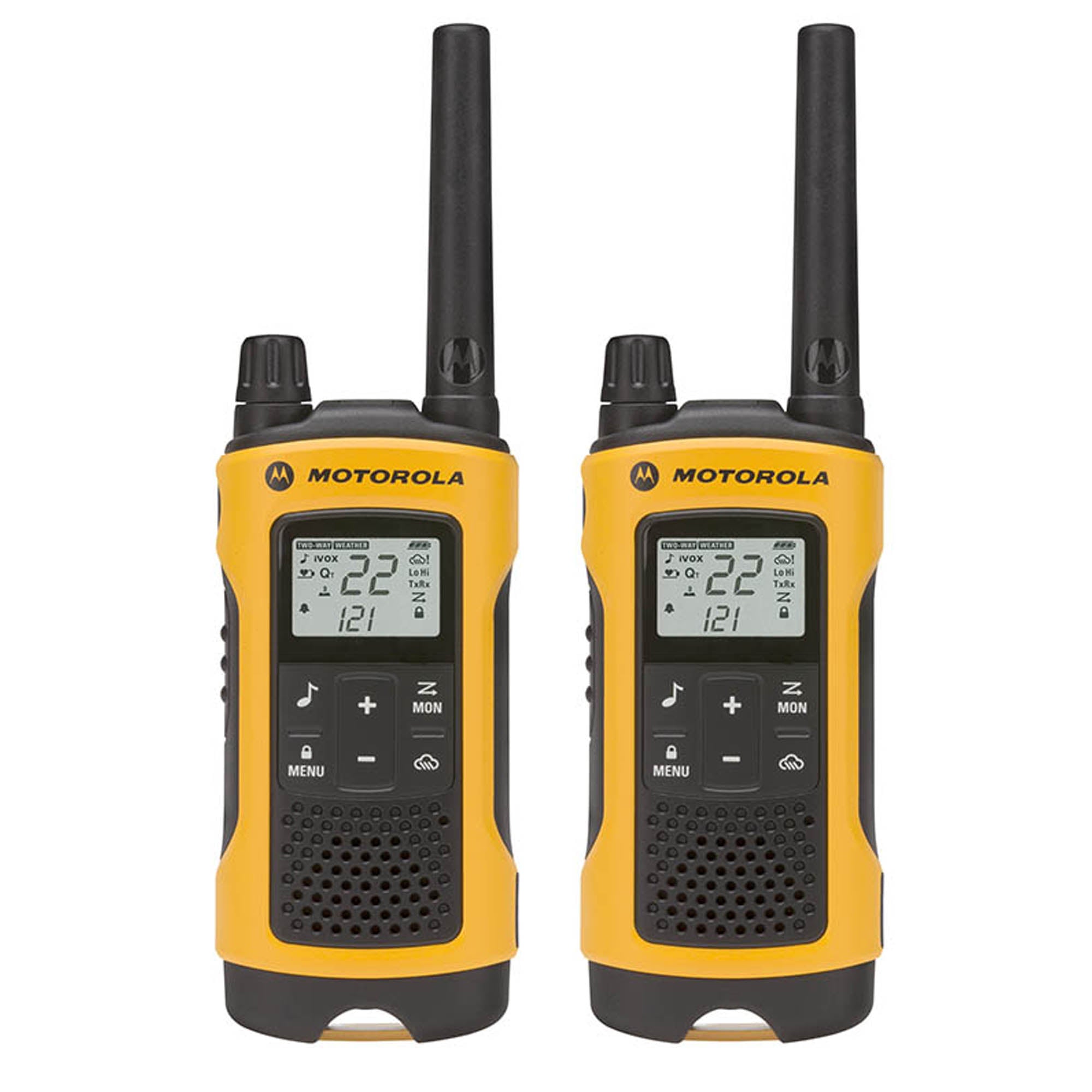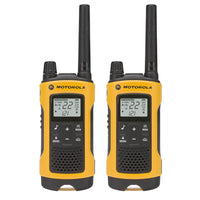 PRODUCT DETAILS
The Talk about T402 2-Way Radio makes a perfect gift for anyone who loves the outdoors. Make your next ski vacation, hunting trip, camping trip or hiking trip safer and more fun with these easy-to-use walkie talkies. Simply push to talk and enjoy up to a 35-mile range. The built-in LED flashlight makes this a handheld radio for evening adventures, unexpected emergencies or power outages.
IP54 Weatherproof
With the IP54 weatherproof design, the radio withstands the effects of rain, snow and other weather conditions.
22 Channels each with 121 Privacy Codes
With 22 channels and 121 privacy codes, totaling 2,662 combinations, it is easy to find an available channel.
Know The Weather In Advance
Keep updated with real-time weather conditions by turning on the weather channel or initiating weather alerts. With these capabilities, you will always be prepared for the unexpected.
NOAA radio service may not be available in all areas. Check with your local weather office for frequency and details, or visit www.weather.gov/nwr (Canada: www.msc.ec.gc.ca/msb/weatheradio).
Light Your Way
The built-in LED flashlight gives you peace-of-mind during evening adventures, unexpected emergencies or power outages.
Power Through Your Adventures
There are two ways to power your radio. You can use NiMH rechargeable batteries included for up to 8.5 hours. Or use 3 AA batteries on the go for up to 21 hours.
Rechargeable
There are three ways to charge the NiMH rechargeable batteries. You can plug the micro-USB cable to an outlet, connect it to your vehicle adaptor, or to your computer.
Hands Free
When hiking up a steep mountain trail, keep your hands free to brace the rocky terrain. With iVOX/VOX acting like a speakerphone and allowing hands-free communication, you can keep on moving without stopping to answer a call.
Customize Call Tones
Choose what your callers hear before you start speaking by selecting one of the 20 call tones, including animal sounds and ring bells.
Keep It Private
The Quiet Talk (QT) feature ensures uninterrupted communication with other Motorola radios that also have this feature. Filter out unwanted transmissions from non-Motorola radios in heavy traffic areas such as ski resorts or amusement parks.
Compatible With Any Radios
You can communicate with other FRS/GMRS radios regardless of brand by being on the same channel and privacy code
Eco Smart
Most of the energy wasted when using a mobile device occurs during the charge. The T402 consumes only half watt of power during its idle condition.
Quickly Find a Channel
Use the scanning feature to see which channels are currently in use.
Done. Over.
Set your radio to transmit a unique tone when you finish talking. It is like saying "Roger" or "Over" after you talk.
Get Low Battery Alert
Get a reminder when batteries are running low.
Keep Your Preferred Settings
Lock the keypad to prevent your personalized settings from being inadvertently changed.
FEATURES
FRS Analog Only
Recreational Use Only
22 Selectable Frequencies with 121 Privacy Code
Yellow Color
Up to 8.5 (NiMH Battery) or 21 (3 AA Alkaline Batteries) Hour Battery Life
20 Call Tones
Scan and Auto Squelch
iVOX/VOX Hands-Free
NOAA Weather Channels and Alerts
Withstands the effects of Rain, Snow, and other Weather Conditions
Built-in Flashlight
Quiet Talk
Channel Busy
Low Battery Alert, Battery Meter
Keypad Tone and Lock
Talk Confirmation Tone
1 Year Warranty*
*Warranty Voided if Used for Business Use*
Contact Us For a Quote
1-800-984-1534