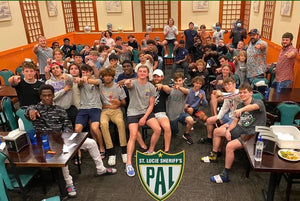 A Fort Pierce dishwasher filled a Toy Drive Box with gifts because he knows what it's like to receive a Christmas present from a Police Officer when he needed it.
After being displaced from his parents when he was a child, Tucker Barlow's grandparents adopted him and moved him from Fort Pierce to the Panhandle during the holidays.  
Without the comfort of home, Tucker wanted a red toy car for Christmas. To his delight, he received one from a local police officer during a holiday toy drive. "It was the only gift I got that year, and it was the exact car I wanted," Tucker recalls.
Now 20 and living with a relative in Fort Pierce, Tucker is thankful that a police officer gave him a gift during a difficult time in his life when no one else did. 
So, when he walked to work at the Pot Beli Deli in Fort Pierce and saw a St. Lucie Sheriff's PAL Toy Run Box, he knew he had to give back. Tucker went to the store and used the money he saved to buy a car to purchase gifts instead. "The best way to feel better when you are down is to do something nice for someone else," Tucker says.
Tucker hopes more people will donate toys to PAL so kids can get a gift this year.
The St. Lucie County Toy Run is just one way the PAL builds relationships between law enforcement, kids, and the community. "Each year, the St. Lucie County Sheriff's Police Athletic League collects toys to distribute to kids in need," St. Lucie County Sheriff's Office Chief Deputy Brian Hester said.
In its 15th year, the St. Lucie County Toy Run will take place on Sunday, December 12. Bikers will begin lining up at 9:00 a.m., at the Fort Pierce Farmer's Market to ride through St. Lucie County and deliver toys to PAL at the St. Lucie County Fairgrounds.
In advance of the Toy Run, PAL is collecting toys at the St. Lucie County Sheriff's Office, Dyer Chevy Fort Pierce, Captain's Gallery Restaurant, The Pot Beli Deli, Little Jim Bridge, Seacoast Bank – Fort Pierce, Fort Pierce Trader's Market, Cobb's Landing and Two- Way Radio Gear.
And if you can't drop off a toy or ride in the Toy Run, you can make a small donation to the PAL to support their programs here: https://secure.qgiv.com/for/slsp/.
Tucker knows that just one gift can make an impact on a child's life. "No child should go without a gift during the holidays or without youth sports programs during the year," says Fire District Chief Nate Spera, this year's Toy Run Grand Marshal.
When a struggling kid gets a gift from a PAL, it influences them for life – ask Tucker.
To learn how to become a PAL to a kid in need, visit http://www.stluciesheriffpal.com, email PAL@Stluciesheirff.com or call (772) 672-8795.