MOTOROLA TALKABOUT® T475 Double Pack with Accessories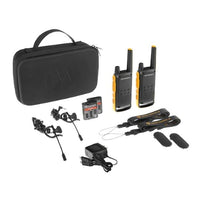 What's in the Box

(2) - Motorola TalkAbout T475 Radios 
(2) - Headsets 
(2)- Lanyards for Radio Attachment
(2) - Whistle Belt Clips
(1) - Carry Case 
(1) - Cable Charging Adaptor with dual micro-USB Connectors 
(2) - NiMH Rechargeable Battery Packs  
(1) - User Guide
(1) - 2 Year Warranty
Product Details 
Keeping You Safer and Connected in Harsh Environments
KEEPING YOU SAFER AND CONNECTED IN HARSH ENVIRONMENTS. The TALKABOUT T475 is the rugged travel companion you need. With an IPX4 rating, the T475 is weatherproof - able to withstand harsh environments. A built-in LED flashlight makes it possible to get where you need to in the dark. And with Quiet Charge, the TALKABOUT T475 will still receive NOAA weather/emergency alerts while keeping calls silent during charge. With a range of up to 35 miles* and the freedom to communicate wirelessly, the T475 won't slow you down.
How far can I expect my radios to communicate?
The communication range quoted is calculated based on an unobstructed line of sight test under optimum conditions. Actual range will vary depending on terrain and conditions, and is often less than the maximum possible. Your actual range will be limited by several factors including, but not limited to: terrain, weather conditions, electromagnetic interference and obstructions.


FEATURES
FRS Analog Only
Recreational Use Only
22 Selectable Frequencies with 121 Privacy Code
Yellow and Black Color
Up to 12 (NiMH Battery) or 28 (3 AA Alkaline Batteries) Hour Battery Life
20 Call Tones
Eco Smart
Scan and Auto Squelch
Time-out Timer
Backlit Display
iVOX/VOX Hands-Free
Single Pin Accessory Connector
NOAA Weather Channels and Alerts
Withstands the effects of Rain, Snow, and other Weather Conditions
Low Battery Alert, Battery Meter
Keypad Tone and Lock
Talk Confirmation Tone
2 Year Replacement Warranty*
*Warranty Voided if Used for Business Use*
Contact Us For a Quote
1-800-984-1534