MH-45B4B Heavy Duty Noise Cancelling Speaker Microphone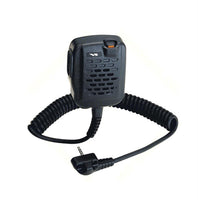 MH-45B4B Heavy Duty Speaker Microphone
If you need a heavy duty microphone, this is your accessory. Built to endure the environment, and extreme use. Comes with an upgraded Noise Cancelling microphone for optimal sound quality.
(This microphone is intrinsically safe when used with the ISVX-450 and ISEVX-534 Series).
Compatible with: VX-231, VX-351, VX-354, VX-414, VX-417, VX-424, VX-427, VX-451, VX-454, VX-459, ISVX-451, ISVX-454, ISVX-459, EVX-531, EVX-534, EVX-539, ISEVX-531, ISEVX-534, ISEVX-539, VX-261, VX-264, EVX-261.
Contact Us For a Quote
1-800-984-1534